Heritage Tile's Subway Ceramics collection of authentically reproduced subway tile was first Made-In-America for the New York City subway stations back in the early 1900's. Traditionally, 

each subway tile was glazed with a gloss, white finish and had an offset grid pattern of 3x6 tiles. The bright, translucent surfaces of each subway tile was the perfect option for the subway stations, as the tile reflected light, which made the tunnels much brighter.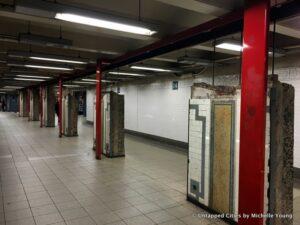 Heritage Tile is the sole supplier for subway tile restoration in the New York City's subway stations. 

Eventually subway tile was adopted for use in residential  bathrooms and kitchens, and businesses. Brownstones, Queen Anne style homes, and Bungalows were just a few of the architectural styles that embraced this aesthetic in the early 20th century.  
Today, the Subway Ceramics collection embodies the authenticity and quality of how the original subway tile was made. Subway tile includes classic moldings, trim pieces, and ceramic accessories that are available for period-style home renovation or modern interior design. Each piece is a part of a comprehensive tile system that provides luxurious surfaces, sleek radius curves, pencil-thin grout lines, and intricate details. The Subway Ceramics collection also offers 60 glaze options ranging from deep, full-bodied glazes, to light and translucent glaze options. 

The Subway Ceramics collection of subway tile continues to experience a smooth transition into modern aesthetics with its sleek finish and large role in the "farmhouse chic" trend. While other interior design trends have come and gone, subway tile has maintained its timeless design, quality, and sophistication.